Allspice fruit cocktail cake. Fruit Cocktail Cake VI. this link is to an external site that may or may not meet accessibility guidelines. Allspice berries are the fruit of the pimento bush (which is why you'll also see this referred to as Pimento Dram). Allspice dram is used a lot in tiki.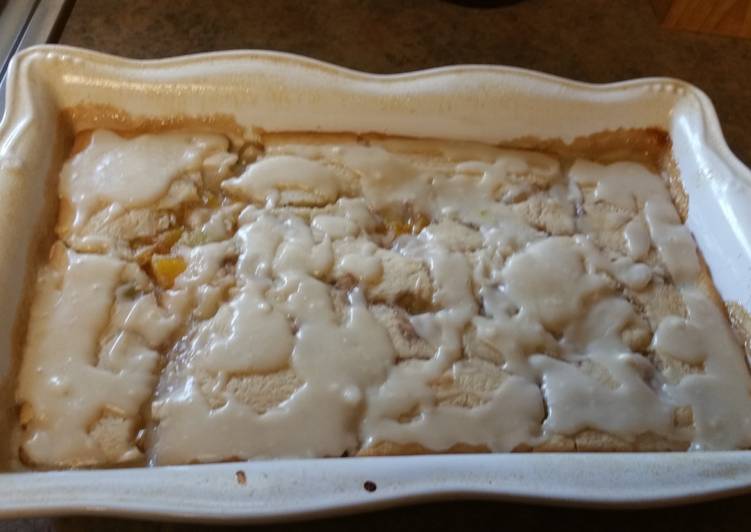 This aromatic cake recipe came from the days of wartime rationing. It is beautifully spiced, and you should have all ingredients to hand. It is a dairy and egg free vegan cake, but will be enjoyed by all. You can cook Allspice fruit cocktail cake using 9 ingredients and 9 steps. Here is how you cook it.
Ingredients of Allspice fruit cocktail cake
It's of granulated sugar.
You need of fruit cocktail.
Prepare of allspice.
It's of pumpkin spice.
It's of cinnamon.
You need of bisquick, or pancake mix.
You need of vanilla extract.
You need of powdered sugar.
It's of butter.
This upside-down fruit cocktail cake is a spongy, relatively light cake with a fabulous fruity topping. A combination of peaches, pineapple, and canned sweet dark cherries make a delicious cake. Fruit Cocktail Dump Cake is so easy to make but tastes like you slaved all day over it! It is sure to be a hit with everyone who tries it! · This delicious cake is made with fruit cocktail in the batter & has a streusel-nut topping.
Allspice fruit cocktail cake step by step
Preheat your over to 350°F..
Pour both cans of fruit cocktail In a bowl and sugar, cinnamon, all spice, and pumpkin spice, vanilla extract to it and set aside..
Mix bisquick or pancake mix with water to a loose consistency.
Add fruit cocktail mixture on top of the bisquick mixture.
Slice up the stick of butter into ten slices and place on top your cake.
Don't forget to spray your pan.
Bake for 20 min or until golden brown..
Mix up in a bowl. Powered sugar, butter a vanilla extract and pour over your cake while it's still warm.
Let cool for 30 min and serve..
A boiled coconut topping is poured over the cake while hot. If you've never had fruit cocktail cake before, you cannot imagine how delicious it is. Place eggs, sugar, flour, fruit cocktail (juice and all) and vanilla in a mixing bowl. Mix on low speed until well blended. Scrape down sides and mix again for about another minute.