My Lovely Braising Steak in Gravy 😉.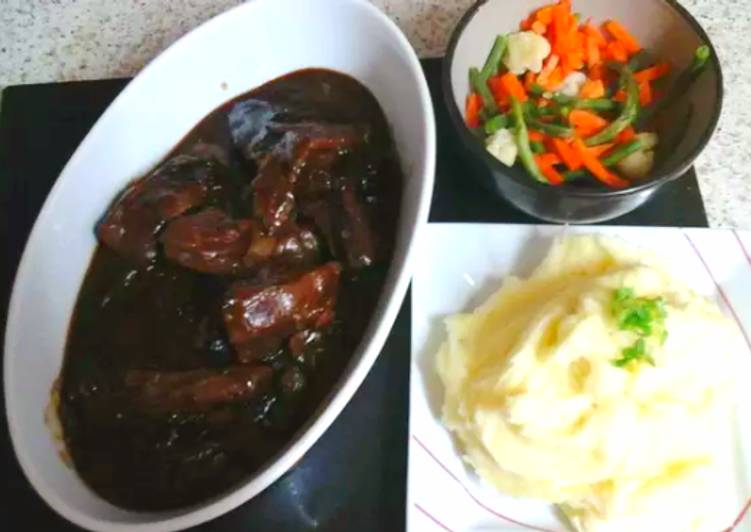 You can have My Lovely Braising Steak in Gravy 😉 using 9 ingredients and 14 steps. Here is how you cook that.
Ingredients of My Lovely Braising Steak in Gravy 😉
You need 600 grams of flank or Braising Steak cut into large chunks.
It's 2 of small onions chopped.
It's 1 clove of crushed garlic.
It's 1/4 cup of Red Wine.
Prepare 1 liter of boiling water.
Prepare 3 of beef cubes or bouillons.
Prepare 1 tbsp of tomato puree or paste.
It's 2 tbsp of Corn starch or corn flour.
It's 1 of little cold water to mix the cornflour.
My Lovely Braising Steak in Gravy 😉 instructions
Cut Braising Steak into large chunks.
Fry all over for 2 mins, until there is no red colour left.
Add the steak to a greased ovenproof dish..
In the same fry pan add chopped onions, and fry until opaque in colour.
Then add the garlic fry for 1 minute.
Add a quarter cup of red wine, let it fry bubbly for 2 mins.
Add 1 litre of boiling water and bring to the boil.
Then add your beef cubes or bouillons, stir in and simmer for 1 minute.
Add the tomato puree and stir in.
Then add black pepper stir.
Now transfer all the gravy into the ovenproof dish with the steak and stir in.
Put the dish in a preheated oven 180°C/gas 7 for 45 mins then stir and cook again for a further 45 mins on 160°C / gas 5, braising slowly for the time..
Then add the corn flour or corn starch to a little water. Stir to a paste then add to the braising steak and stir it and it will be a lot thicker. Then put back in the oven for 15 mins..
Serve with crispy chips or mash potato and veg..