Creamy hash browns (slow cooker). Packaged hash brown potatoes and canned soup make for quick work of scalloped potatoes and ham. Tossing the dry potatoes with melted butter preserves their shape during the long, slow cook time. Sprinkle canned French-fried onions on top of the finished casserole for added crunch and flavor.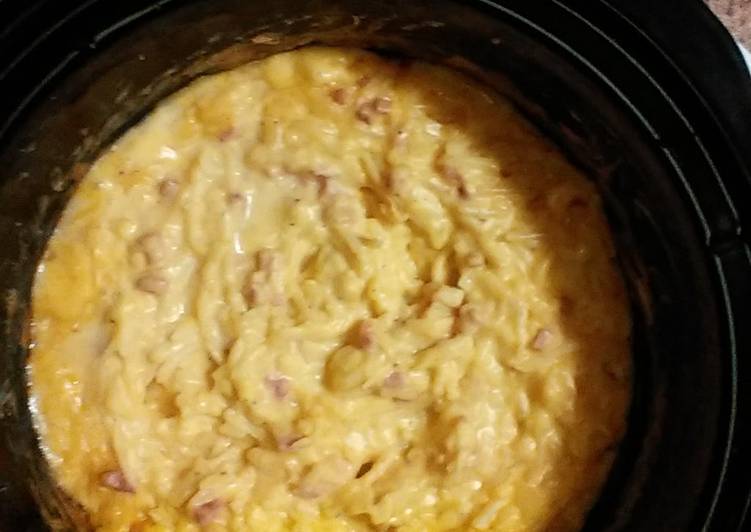 This dish is also great to take to parties. Coat the inside of a slow cooker with cooking spray or butter. Spoon the hashbrown mixture into the slow cooker. You can have Creamy hash browns (slow cooker) using 9 ingredients and 1 steps. Here is how you achieve that.
Ingredients of Creamy hash browns (slow cooker)
You need 2 packages of thawed hash brown potatoes, approx. 1lb. each.
It's 2 cup of Velveeta shredded or cubed cheese (8 ozs).
It's 16 oz of sour cream (2 cups – I recommend Daisy Light).
You need 1 can of condensed cream of celery soup undiluted (10 3/4 ozs).
It's 1 can of condensed cream of chicken soup undiluted (10 3/4 ozs).
It's 1 lb of sliced bacon, cooked and crumbled.
Prepare 1 of large onion chopped.
It's 1/4 cup of butter melted (1/2 stick).
Prepare 1/4 tsp of pepper.
In this video I make a deliciously creamy slow cooker hash brown that is incredibly tasty & slightly unhealthy. This dish is amazing just by itself but also. This slow cooker recipe from Taste of Home uses Velveeta cheese, sour cream, cream of celery soup and cream of chicken soup to give these hash browns a texture that is creamy and anything but plain. Bacon, onions and pepper add additional flavor.
Creamy hash browns (slow cooker) step by step
Place potatoes in an ungreased 5 qt. slow cooker. In a bowl, mix all other ingredients well. Pour over potatoes and mix well. Cook on low 4 to 5 hours or until potatoes are tender and heated through. Makes 14 servings..
You'll need a five-quart slow cooker for this recipe. This slow cooker take on a classic hash brown casserole is creamy, cheesy, and packed with potato flavor. While other hash brown casseroles go heavy on the egg for sliceability, here we lean on cream cheese and sour cream to make this one-pot breakfast supremely scoopable. Make our hash brown casserole cooked in the slow cooker with frozen or refrigerated hash brown potatoes, cheese, sour cream, and seasonings. Just assemble the ingredients in the crock pot four hours before you plan to eat, and, by supper time, you have hash browns to go with your eggs and.