Ain't No Thang Pork Chops and Rice.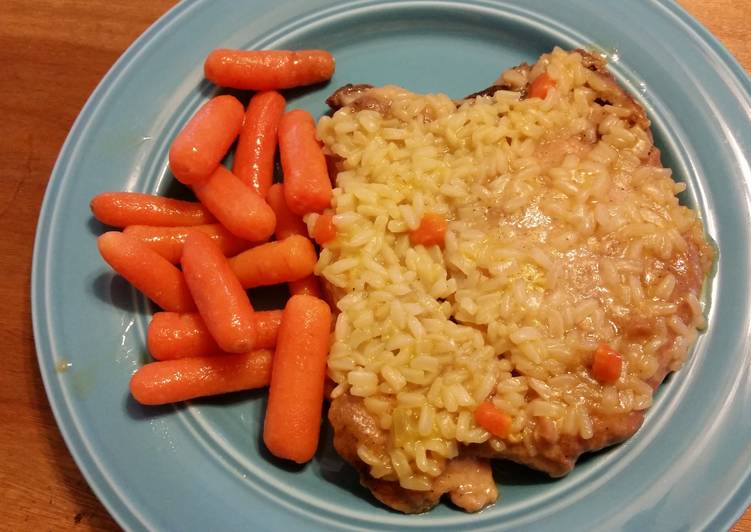 You can cook Ain't No Thang Pork Chops and Rice using 8 ingredients and 12 steps. Here is how you cook that.
Ingredients of Ain't No Thang Pork Chops and Rice
Prepare 6 of Bone in pork chops.
It's 3/4 cup of flour.
It's 1 tbsp of salt.
You need 3 tsp of dry mustard.
You need 1 1/2 tsp of granulated garlic.
It's 2 tsp of black pepper.
You need 5 tbsp of olive oil.
You need 2 of Family Size cans (22.4oz) of Chicken & Rice condensed soup.
Ain't No Thang Pork Chops and Rice step by step
Gather your spices..
Add your spices and flour to a gallon storage bag. Mix well..
In a large pan heat approximately 2 Tbsp of olive oil on medium high heat..
Get out your pork chops..
Dredge your pork chops one at a time in the flour and spice mixture..
Brown pork chops well on each side two at a time..
Have your soup available and open one can..
While you are browning your first two chops; empty half of a can of soup into the slow cooker..
Lay down your first set of two chops..
Layer your chops with half a can of soup until you run out of both..
At this point you cover and cook your chops on LOW in your slow cooker for 5 hrs or on HIGH for 2 1/2 hrs. (No Peeking).
Serve it up!.